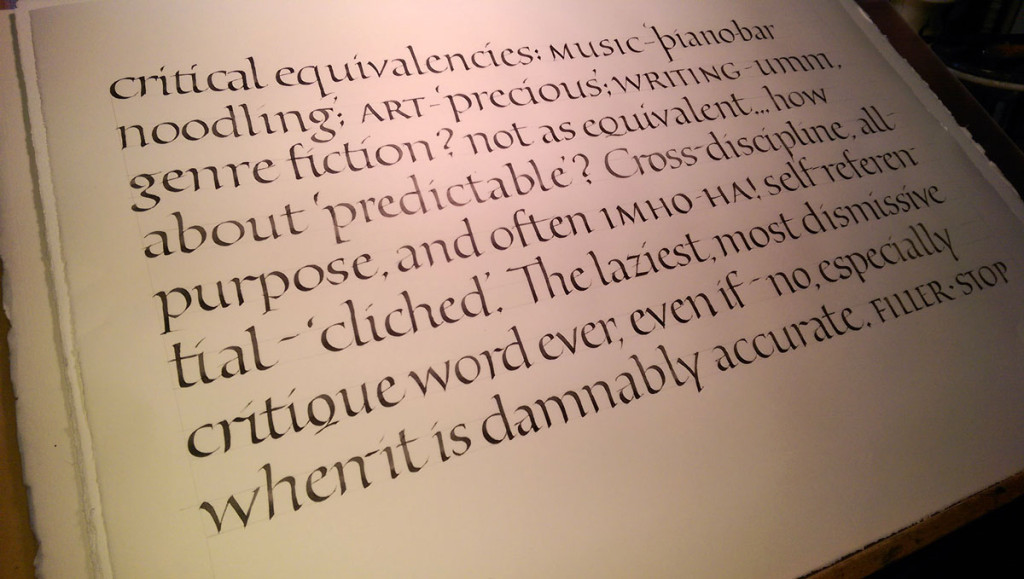 Working on Zerkall smooth with a Brause 3mm nib, the pen is sticking in the turns.  Yes, I have a good cushion. The ink is stick ink, maybe Chinese, but I'm not sure. It's a round cylinder of a stick ink. Tomorrow I'm switching to something else -- changing both paper and ink, probably. These are some of the letters -- or at least they want to be the letters -- that we studied over the weekend with Christopher Haanes.
Like all good workshops, this workshop was like suspending one's regular workout practice at the gym to work with a personal trainer for a little bit. At the gym, you know in the back of your mind that you haven't really doing those squats properly, and you tend to skimp on triceps reps, and maybe it's been awhile since you even visited that corner of the gym that houses the medicine balls.
Along those same lines, at this workshop I revisited ink choices, spent some much-needed time with pen manipulation and pressure. Oh, and it had been a good while since I had visited that very large corner of calligraphy that houses the Roman capitals.