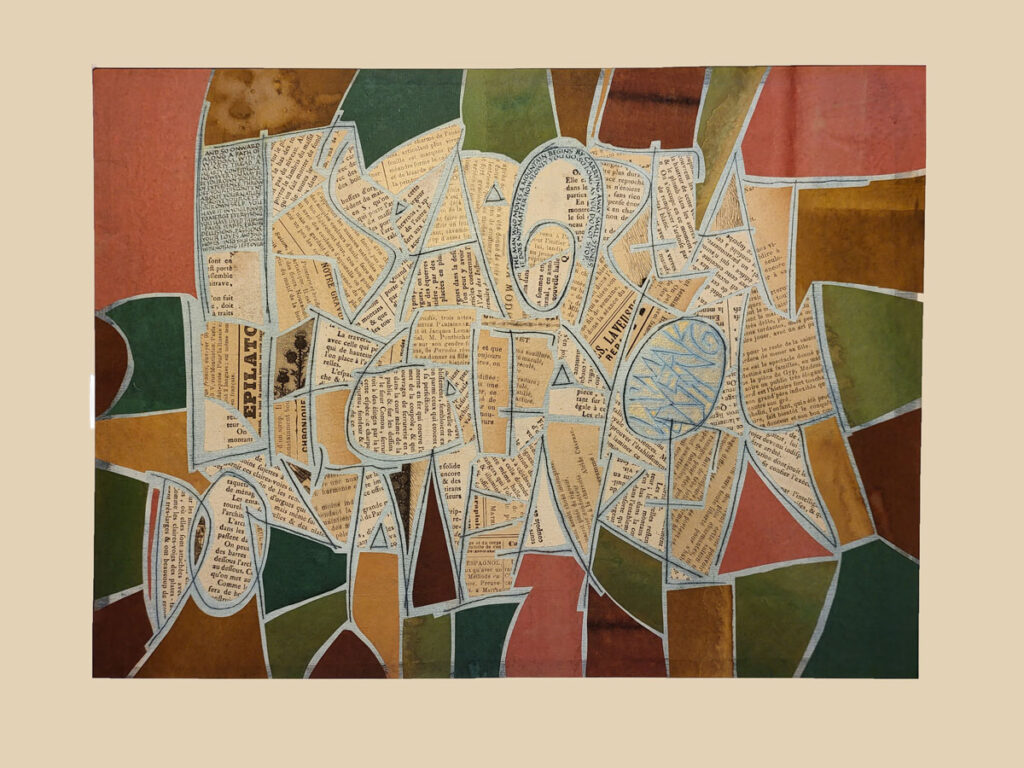 This two-month collage workshop with Brody Neuenschwander has come to an end, and I've barely scratched the surface (sorry! couldn't resist … sorry again!). We explored so much that it would have been impossible to even try it all. We dyed, whitewashed, scratched letters, stamped letters, collaged old book pages and monoprints and actual items, and so much more.
The piece shown above has layers of Western and Asian papers, old book pages, tiny lettering, whitewash, and scratched letters. It references carpet pages such as you might see in 6th-century bibles. The scratched letters read (only if you want to read them) a saying my grandfather was fond of repeating. "It's a great life if you don't weaken." And the tiny lettering at top left and curved at top are more literary and verbose version of the same sentiment. However, the platinum gouache in the egg shape at middle right doesn't photograph well, answers these quotations: "I'm weakening." Content area 11 x 14 in.
You may remember my posts about the year with Brody in 2021. What an experience!
The collage workshop is dead (not it's not — I could spend the next 2 years at least on this material). Long live the collage workshop: The Magic of Kozo begins in just two weeks. And I've got a big frame to build, and more art (well, hardware-store) supplies to buy. It's a great life, if you don't weaken.