A few weeks ago I had the pleasure of attending Harvest Crittenden's workshop hosted by the Big Sky Scribes in Helena. The subject: Spencerian script. I had never studied this hand before. Harvest is very organized and clear, and we learned a lot in a short time. Now all we have to do is … practice, of course.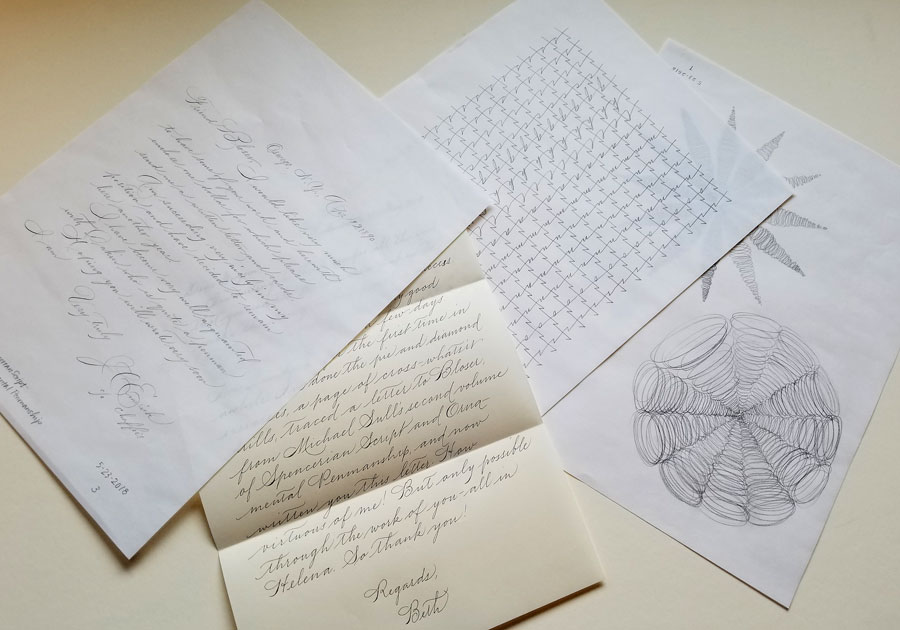 I haven't been as regular about it as I could wish, but yesterday I sat down to practice in earnest again. I began with 2 pages of warm-up exercises designed to build kinetic memory. After the page of cross drills, I decided to simply trace, in pencil, a letter written in the 19th century in Spencerian. It helped to teach myself the rhythm of the script, and I was surprised to discover by that method a few things I had been glossing over. Then I wrote a letter in Spencerian using a ball-point pen. I have this lovely ball-point pen with a 0.3 mm point, and I didn't want to get out ink.
Spencerian practice using a pencil and ball-point pen on B&R layout paper and Crane stationery.