I love tunnel books, and have since I was a child. About a year and a half ago, Bound & Lettered (Vol. 16, No. 2) published an interesting article about a very cool tunnel book by Mary Conley. My friend Rose made a beautiful tunnel book using the instructions laid out in the article, and I began thinking about tunnel books some more. But so far I haven't acted on them ... because, as the saying goes, " life is short, and art is long".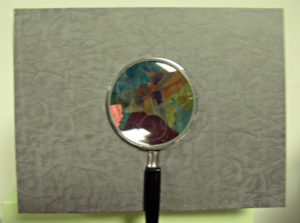 Back in art school, though, in about 2006, I made a tunnel book from a drawing of a child on some steps in the shuk in Jerusalem. And later, for another class, I had a blast making a tunnel book of butterflies with text from a essay by Ann Fadiman, "Collecting Nature", from her collection of essays entitled At Large and at Small. Oh wait, I've blogged about this before, just a mere 13 years ago. How could I have forgotten? 🙂 And here, wherein I claimed that I'm not a fan of tunnel books! Re-reading that post, I still have some of the same opinions about their drawbacks, but it seems that I've warmed up to them in the past decade. And I really did love them as a child.
This guy has such fun making a tunnel book from a stack of identical postcards.
And here are just a couple of links to some favorite tunnel books I've seen around the internet: