Today's mail brought such a treat! It's a catalogue raisonne of Julie Chen's artist books. Just in case you don't know what that is (I didn't), it's "a descriptive catalog of works of art with explanations and scholarly comments". I have always admired Julie Chen's work, and was so excited to learn about this publication.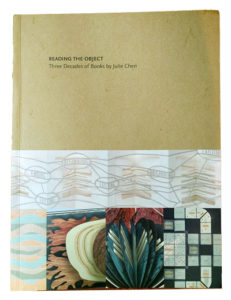 Reading the Object: Three Decades of Books by Julie Chen
Published by the Mills College Center for the Book and Flying Fish Press, 2016
Catalogue raisonne of Julie Chen and Flying Fish Press. With essays by Kathleen Walkup and Sandra Kroupa, and commentary by Julie Chen. Designed by Julie Chen. Printed offset. ISBN 978-0-9648938-9-4. $30.
It can be ordered by clicking on the link on this Mill College web page.
The publication of the book relates to two exhibits of her work, one that was held this spring entitled "Reading the Object: A Decade (or so) of Books by Julie Chen", and one coming up February-June 2017 at the University of Washington entitled "Every Memoment of a Book: Three Decades of Work by Julie Chen". Some of the text was written by Julie herself, but there are also essays written by others about Julie's work. And, of course, the pictures of the works themselves. As Sandra Kroupa writes, "While her genius for structures is universally acknowledged, Chen's facility with text is what holds students' attention. Her structures are the initial draw, but her insightful, intense texts seal the deal." Yes.
We just returned from a visit to Iceland yesterday, so a full and careful reading is not in the cards for today or tomorrow. But it's something to look forward to!