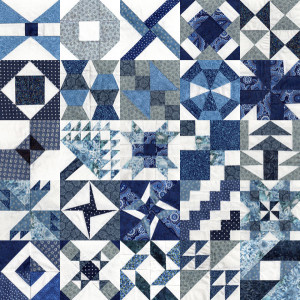 I've been making a Farmer's Wife quilt, a sampler quilt consisting of 111 unique blocks. Since the beginning of the year, my sister has been posting tutorials, templates, and settings on two or three Farmer's Wife blocks each week on her blog, Handmade Karma, and I've been trying to keep up — with variable success. Upon finishing the last block of week 10 this morning, I now have 25 blocks completed to date. (Click on the image to see it full size.)
This image was a quick little exercise in Photoshop: Scripts > Image Processor > Resize to Fit all my scans to 120 px square, set up a 600 x 900 px image with vertical and horizontal guidelines at 120 px intervals, open all the small files and drop them onto the grid. Can a Photoshop document have 111 layers? A quick google answers that question: the maximum number of layers in Photoshop is … 8,000. Wow. Who would do that?
Shown here are the 25 blocks, in no particular order. I can see that at the end of the block-making part of this quilt, I will be spending a good deal of time figuring out block order. And what to do about sashing? Not to worry: those decisions are for the future.
Meanwhile, I've been examining optional settings on this Pinterest board, and my sister has been pinning our squares to her Pinterest board here.