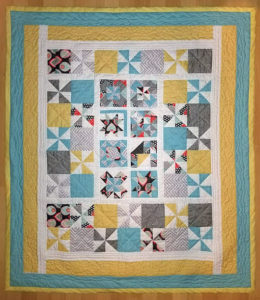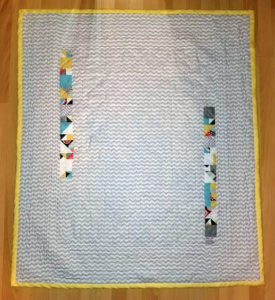 About a week and a half before Thanksgiving, I received, unexpectedly, a quilt from my sister. It is absolutely beautiful, a mixture of windmills and pinwheels, with deconstructed appliquéd pinwheels in the border, French knots and big-stitch quilting.
It galvanized me to finish this long-overdue baby quilt for a great-nephew. Because Wesley is now 22 months old, I had taken to calling it a toddler quilt. A week and a half before Thanksgiving, I had all the quilt blocks made but no plan. No matter. I just started stitching – 1/2″ strips to fill out a too-small square, sashing and more sashing to marry up the dimensions of my inadvertant mix of 5″ and 4.5″ squares, a couple of borders, another border to make it a little large … and so on. And, voila! a quilt top.
Then what to do? I had all these bits of blocks that went unused on the front; I stitched those together into a couple of strips which helped fill out the width of the quilt back.
Then what next? I made a test sandwich of top-batting-bottom, looked at a tutorial or two, put on a quilting presser foot and learned how to machine-quilt for about 15 minutes. With the tiny bit of knowledge, I machine-quilted the pin-basted quilt. It went pretty well, with minimal ripping and re-stitching.
After trimming, I machine-sewed one side of the bias binding to the quilt, gathered a few airplane-approved sewing tools (needle, thread, small thread snips), and put it in my carry-on backpack for the trip to Florida.
On the planes, at my sister-in-law's house, in the car … I hand-stitched the other side of the bias binding. After we pulled up into the driveway of my brother-in-law's house for Thanksgiving dinner, I took the final two (!) stitches to finish the quilt.
These photos were rather hurriedly taken on the floor of a bedroom. Not ideal, but at least I have a record.
It was a different way of working for me. Not the work-right-up-to-the-deadline method; that, unfortunately, is common. I mean the idea of taking what I have and organically building up and out, rather than planning it out all in advance, making a model, do a trial run, and then, at long last, making the final thing. I like it.