On a recent trip to Australia, I visited the best ever museum: the Museum of Old and New Art (MONA), up the river from Hobart, Tasmania. What a ride! And I'm not talking about the ferry we took from Hobart's Sullivan Cove to the MONA — although that was a great way to start the journey.
Here are a couple of photos of one of my favorite installations, entitled "".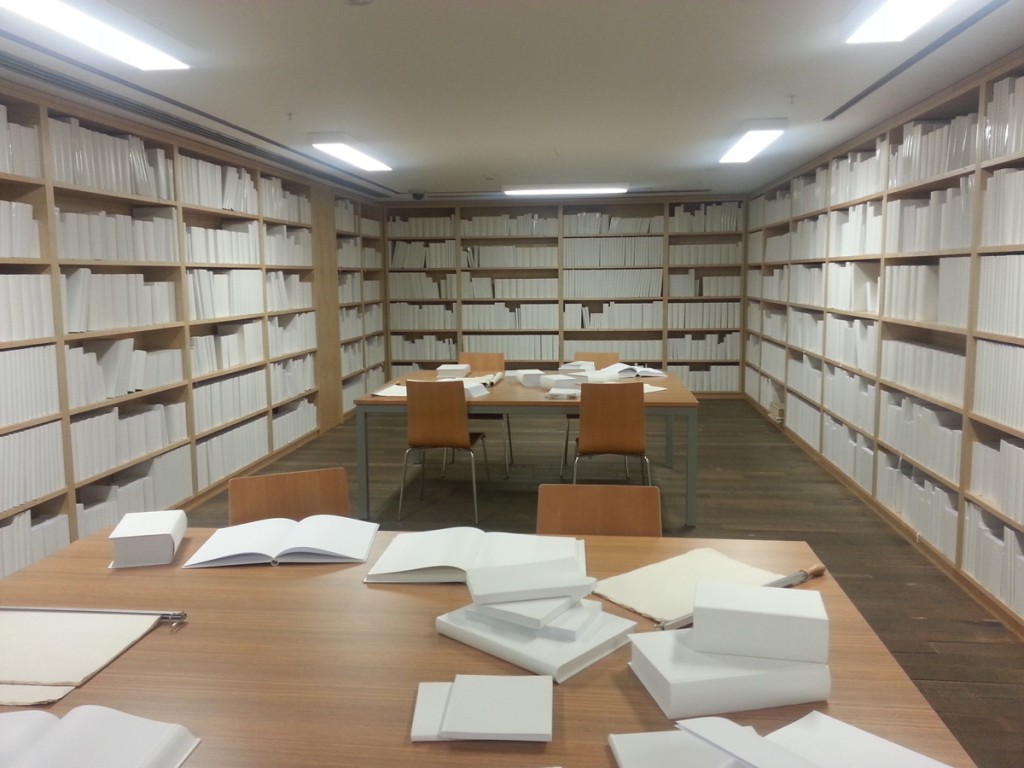 A closer look at the untitled installation
I was aware of so many simultaneous reactions to this room full of blank white books -- undergoing a kind of vertigo of meaning while critiquing a loose headband; contemplating the horror of a zombie library while wondering at the artist's control in not making a mark in any of the books or shelves or tables; imagining the impact of one red dot while wondering at the impulse to find meaning even in this blank room; acknowledging the urge to make a mark somewhere while mulling over various criticisms of the blank book made within the artist book community; remembering a cartoon from my childhood in which all the musical notes came loose from the staves and fell off the page; thinking about invisible ink, the perils of magnetic media ...
And that was just one work of art on the three subterranean floors of the MONA. We stayed all afternoon and didn't see everything — not even close.
Here were some of the highlights for me:
I could go on. And have, much to the boredom of my friends.
And when it all got to be too much, a bounce on the trampoline outside was the perfect break.