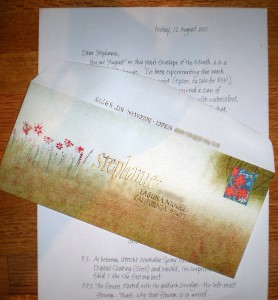 I've been busy on the book commission, but took a few minutes to do my envelope for the year-long 2011 Envelope Exchange. I've been spending a lot of time lately with my Epson wide-format new inkjet printer, and I carried that experimentation over to this envelope. (As usual, click on the image to see it at a larger size.)
These are the layers on this #10 Strathmore Laid envelope:
Inkjet-print of a scan of some painting on Arches Text Wove.
A layer of Utrecht Workable Spray Fixative.
The name in Dr. Martin's Iridescent calligraphy gold ink, shaded in FW Antelope acrylic ink(#2½ Mitchell nib and Principality pointed nib).
The address in the same FW Antelope, with #4 Mitchell nib.
Flowers with #3½ and #4 nibs.
I chose the stamp after I did the envelope. I'm surprised at how well they go together.