I've been steadily working on a new edition of 12 little books. Fun stuff! And I can't believe I mailed off 7 of them today without taking photos. Hmph. When I know they've arrived safely, I'll post some in-process photos and as well as photos of the books I have here. In the meanwhile, a couple of details ...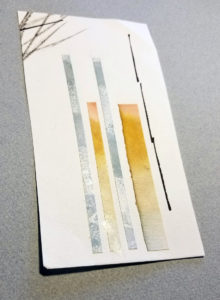 Isn't this simply luscious? One of the frustrations/pleasures of working on an edition is seeing scraps like this come — and go. This sheets appeared when I pasted up scraps of painted Arches Text Wove onto another scrap of ATW to make closure loops for the wrappers. It was so beautiful on its own, I hated to cut it down into 1/4"-inch strips.
One day I'm going to finish the paper mosaics I've begun with all the irresistibly beautiful little bits of paper that I can never bear to throw out.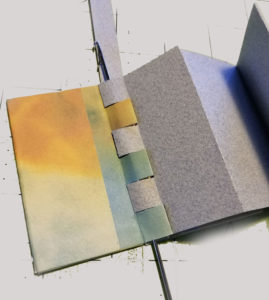 Even though I'm not going to show the book today, I will show one in-process photo. The structure is a flat-piano-hinge binding from Keith Smith's, Non-Adhesive Binding. Threading a flat strip of Canson Mi-Tientes through the folded tabs was driving me bonkers, until I located this loop turner in my sewing supplies. I finally worked out a method of guiding the strip through the loops with the aid of the loop turner and a micro-spatula. The structure requires that this be done three times for each book, so I've gotten pretty good at it by now.
In case you're wondering about the scale ... the book is 3 inches tall and 1-5/8" wide. (See how I mostly got rid of the lime green cutting mat that clashed with this little book? But you can still see the 1-inch grid in places.)