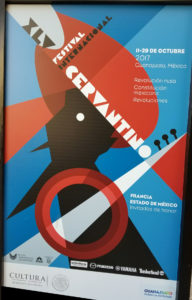 We've just returned from a wonderful week and a half in Guanajuato, Mexico. A World Heritage Site, Guanajuato annually hosts the Cervantino festival, which celebrates art and culture. This year was the 45th festival. Maybe I'll post more about the festival later, but today I'm focusing on the lettering I saw in Guanajuato. (As always, click on an image for a larger version.)
I enjoyed the graphics that were created for the festival this year. Here are two examples, but there were many variations. The theme of the festival this year: Revolution. The country theme: France.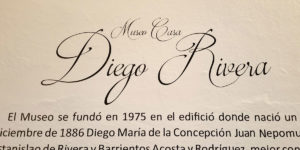 We visited the childhood home of Diego Rivera; despite the fact that he left there at age 6, it's been converted into a museum. An interesting pointed pen variation headed up the sign on the wall.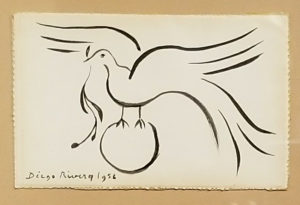 More interesting, was Rivera's version of the bird flourish. I'm kind of kidding. Not about it being interesting, but it did remind me of the tons of flourished birds that have come of the hands of master penmen (and penwomen) over the past 150 years.
Guanajuato is a walking city, and boy did we walk. My FitBit registered at least 10,000 steps each day we were there, with a top reading of 17,555 steps.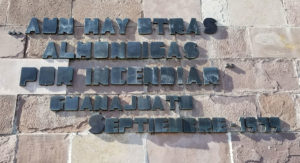 We didn't walk up to the Pipila — we took the 47°-grade funicular — but I took this photo of the lettering at the foot of the Pipila. It's not the Trajan column, but here I was, totally ignoring the huge statue towering above the lettering to concentrate on the lettering below. Typical calligrapher.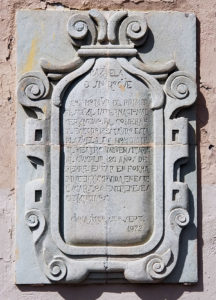 This carved sign in one of the plazas commemorates the first Cervantino festival in 1972. Some of the letters remind me of David Jones lettering, especially the S. Here are two details that illustrate what I mean: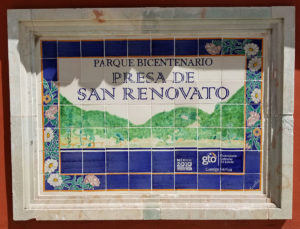 Another day, we went to Presa de Olla, a nice neighborhood above the city topped by a park. This tiled sign reminded me a bit of Gemma Black's open versals and her Art Deco-rative designs. (I do recognize that this sign is totally inferior to Gemma's work, of course).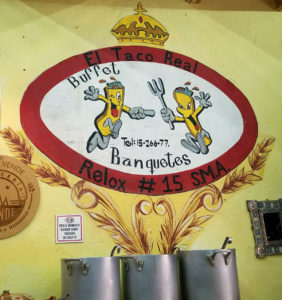 Speaking of inferior, this cheerful sign was painted on a restaurant wall in San Miguel de Allende, which is an hour's bus ride from Guanajuato. I recorded this sign as a cautionary tale for beginning students who tend towards that 0° pen angle. Contrary to what you might think, those wheat stalks are not coming out of the big soup pot, but are painted on the wall behind it.
We attended a lot of music concerts, some dramatic performances, walked the streets with an estudiantina and about 150 Mexican tourists, and much, much more. It was a good trip.