E is for Ewan Clayton.
I have taken several workshops with Ewan over the years, and it is always a wonderful experience. Most recently, at the 2013 calligraphy conference Legacies II in Dallas, Texas, we explored a pseudo-primitive lettering style developed by Ben Shahn. Earlier, in 2003, I also studied "Color and Environment in Artmaking" with Ewan and Hazel Dolby at Camp Cheerio. And before that, in 1990: "Spirituality in Calligraphy" at Calligraphy Connection at St. Johns University in Minnesota.
Ewan Clayton's recent book entitled The Golden Thread: A History of Writing is a must-read for any calligrapher. If there is a canon of calligraphy literature, this book stands firmly in the center with just a few others. I reviewed this entertaining and educational book in the June 2014 issue of the Guild of BookWorkers Newsletter.
This is a not-very-good image of one of the pieces I did in Ewan's 2-day class at the 2013 conference. I believe I photographed it with my smartphone while it lay on the floor of the workshop room.
Later in the year I spent some more time with these letters and thoroughly enjoyed myself.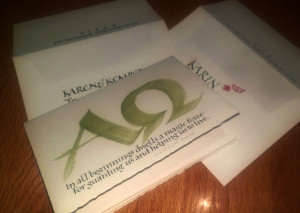 My daily lettering today consisted of one quotation and several thank-you notes. Shown here is the outside of one of the thank-you notes as well as two of the envelopes.