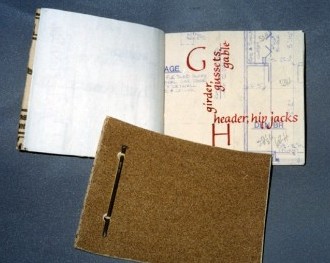 Tami Rondeau
Carpenter's Alphabet Book -- This is something I have wanted to try for a long time. Having a carpenter for a husband means that you peruse tool stores for entertainment, clear the well-weathered blueprints off of the dining room table to eat, and are sure that you've heard enough about the proper way to attach joist hangers to do it yourself.
This book is an experiment. I plan to keep working with this idea — when I can get my hands on more blueprints, that is.

4¼" x 5¼" (11.4cm x 14cm).
Tami Rondeau is not online.
See her artist book in the 2nd Callig Book Swap.