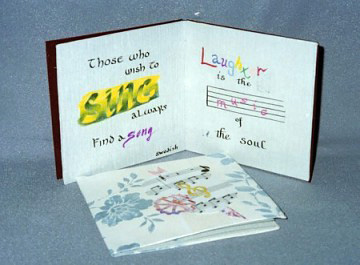 Lorraine Brown
Two of these books have covers of bookbinder's cloth; the other four are wallpaper. The signatures were sewn with linen thread, with the covers wrapped around them. The contents have been done primarily with gouache and some Prismacolor pencils, using sumi ink. The paper is Classic laid writing paper, acid free, color brushed pewter.
Book about 5" x 5" (12.7cm x 12.7cm).
E-mail Lorraine Brown.