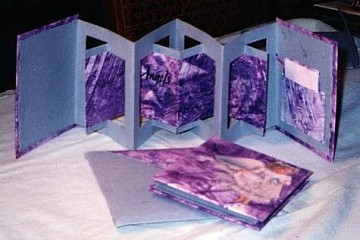 Marg Lammerts
It began with the big roll of light blue paper, maybe 10 yards of it, that I found in a thrift shop for the grand total of .50 cents. Such a deal! It looks much like pulped denim jeans, — so I chose this paper because it was soft and folded so nicely. The paste papers were done on an unknown coated paper stock. It worked well with the methyl cellulose paste. The pigments: dry purple powder from Twinrocker and an acrylic blue by Sargent, with sprinkles of powdered metallic silver.
E-mail Marg Lammerts.
See her artist book in the 1st CALLIG Book Swap.
See her artist book in the 2nd CALLIG Book Swap.