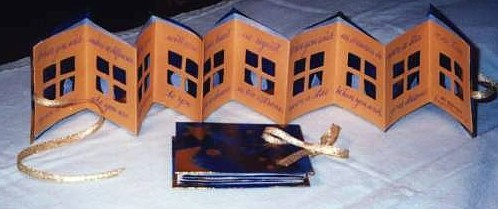 Dayle Lambert
The inspiration for this little book came from the words, the cover's gift wrap, and the beautiful big star spangled sky in Alberta, Canada. Background and cover paper – Swiss made Stewo gift wrap from Classic Packaging. Center – Arches Text Wove with wheat starch paste,acrylics. Front – Naturels 70# text. Lettering – gouache. Book is to be opened in a circle motion and the covers tied together - can be hung up.
E-mail Dayle Lambert .
See her artist book in Pauline Sager's 2nd Book Swap.