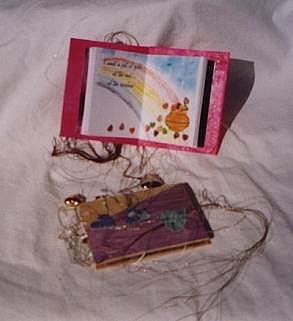 Barbi Striar Disraely
Interior pages: paste paper learned from Nancy Culmone. Golden Matte Acrylics, Golden Regular Acrylics, sparkle powder and pigments from Twinrocker Paper. Text: pointed pen and black ink; computer font.Covers: black matte board covered with Momi paper, collaged with paste paper scraps. The enclosures, made from Strathmore or Canson Mi Tientes paper, I adapted the pattern for the enclosures from a book by Marilyn Webberly and Ann Forsyth called Books, Boxes and Wraps.
E-mail Barbi Striar Disraely or visit her website.
See her artist book in the 2nd Callig Book Swap.